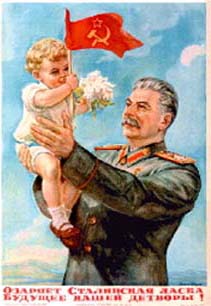 "Each of us is being taken care of by Stalin in the Kremlin."
"Stalin's kindness shines on the future of our kids!"



"Thanks to native Stalin for the happy childhood!"

Welcome to the 21st century! She's larger than she.





PM Yulia Tymoshenko (voiceover):

Every day, I work till late night because I know that my every minute is for the sake of the people, for the sake of my native Ukraine. I know that millions of people work a lot every day as well because they know that today their work is needed like never before. Every minute, our country smelts ore, sows bread, heals the sick, creates art, teaches and brings up kids. It is she, our best country. She works. She is Ukraine!
Never mind that it's the oligarchs who own the plants, the cops and the courts, and it's

she

who serves them.

Never mind that your labor earns them billions of dollars and leaves you struggling to make both ends meet.

Never mind that Ukraine ranks 85th out of 182 on the Human Development Index.


If she lived like you do,
would she call it "our best country?" Or would she run away?
"Life's getting merrier by the day."
"Beloved Yulia — people's happiness."
Video uploaded from: http://censor.net.ua/go/offer/ResourceID/135106.html
Original source: http://5.ua